Hand washing remains the No.1 tip for preventing the spread of Coronavirus (COVID-19). It's common sense and it works! However, it must be done properly and with Soap and Water.
Proper hand washing not only reduces the spread of Coronavirus COVID-19, it can also prevent the spread of other viral illnesses such as cold and flu etc.
The 7 Simple Steps Of Hand washing: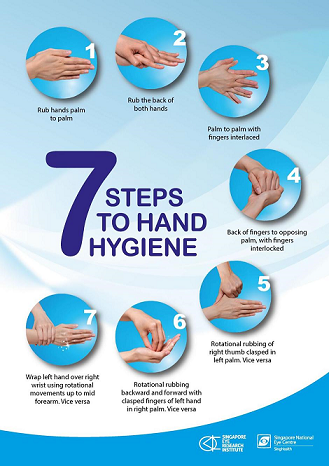 When do I need to wash my hands?
Hand washing throughout the day is important, but even more important during an outbreak. Always remember to wash your hands in these situations:
After returning from an outing (wet market, supermarket, work, school, concert, sporting activity, hospital, nursing home, etc).
Before leaving the bathroom — both at home and in public bathrooms.
Before, during, and after preparing food, especially raw food.
Before eating food.
Before and after caring for someone at home who is sick with symptoms of vomiting or diarrhea.
Before and after treating a cut or wound.
After changing diapers or cleaning up a child who has used the toilet.
After blowing your nose, coughing, or sneezing.
After touching an animal, animal feed, or animal waste.
After handling pet food or pet treats.
After touching garbage.
After putting on your shoes.
After using public computers, touching public tables and counter-tops, cash and coins, other people's phones, etc.
How long should I wash my hands?
Science has shown that washing your hands for 20 seconds is effective in killing germs. Don't have the patience for this? Experts say that washing your hands while singing Happy Birthday twice makes the experience quick and pleasant.
Carry along a small bottle of hand wash when you are out and about. A small bottle goes a long way in fending ourselves against the virus.
Can I use Hand Sanitizer?
Hand sanitizers don't eliminate everything. It has to have at least 60% alcohol, which can be very drying if used on a daily basis.
Applying hand sanitizer may be easier, but even the ones with sufficient alcohol content cannot remove all types of bacteria and viruses.
Soap and water are far more effective at removing such common illness-causing germs as cryptosporidium, norovirus and Clostridium difficile. Soap also washes away bacteria as well as other viruses that are even tougher than coronaviruses.
Stay safe!
Cheers,
The Soapy Team 🙂